Photography of CRAWLING BABIES
That moment when you want to eat them. Like, literally. The moment they learn to sit up, start to move (sometimes in unlikely ways) or try to stand up while making funny faces and hilarious noises. A short, fun and minimalist session. Because I want to eat babies, too 😉
Photo shoots of crawling babies in Barcelona
WHEN: when the baby is sitting and/or crawling, but not walking yet.
HOW: minimalist portraits of your baby.
WHERE: in my photography studio in Barcelona.
INVESTMENT: from 220 €.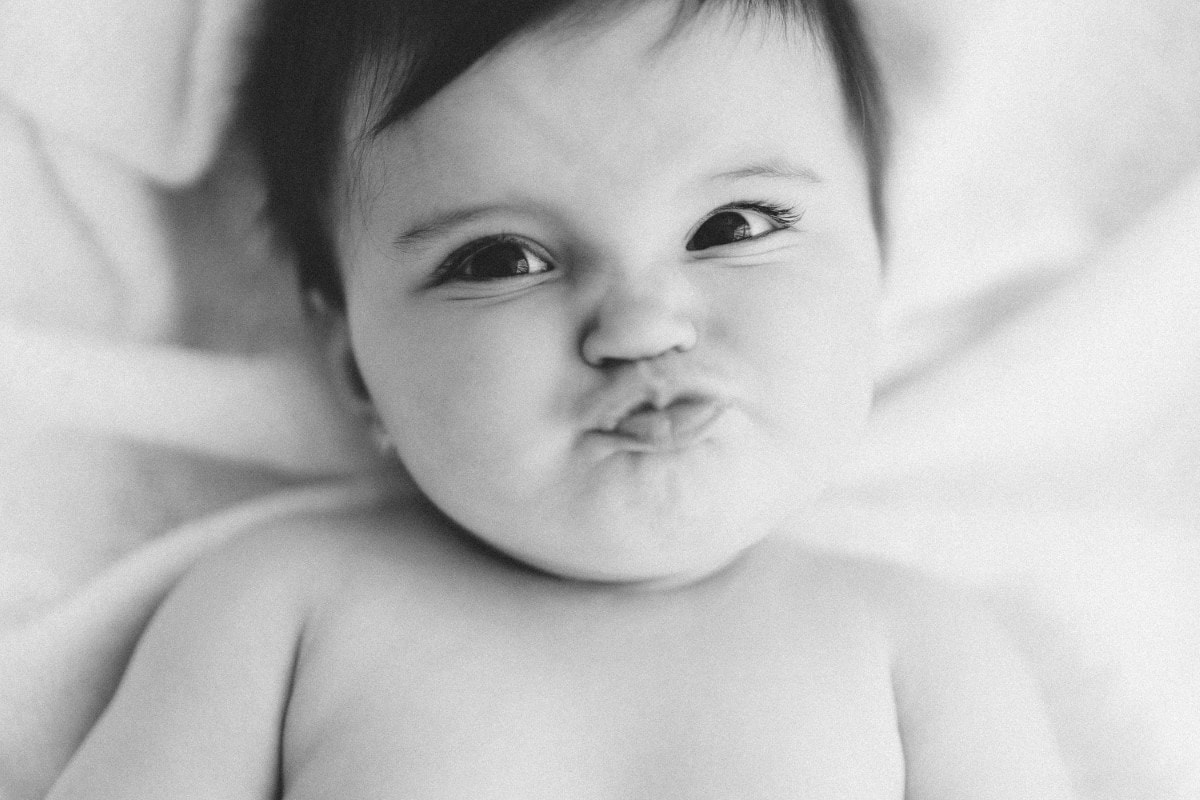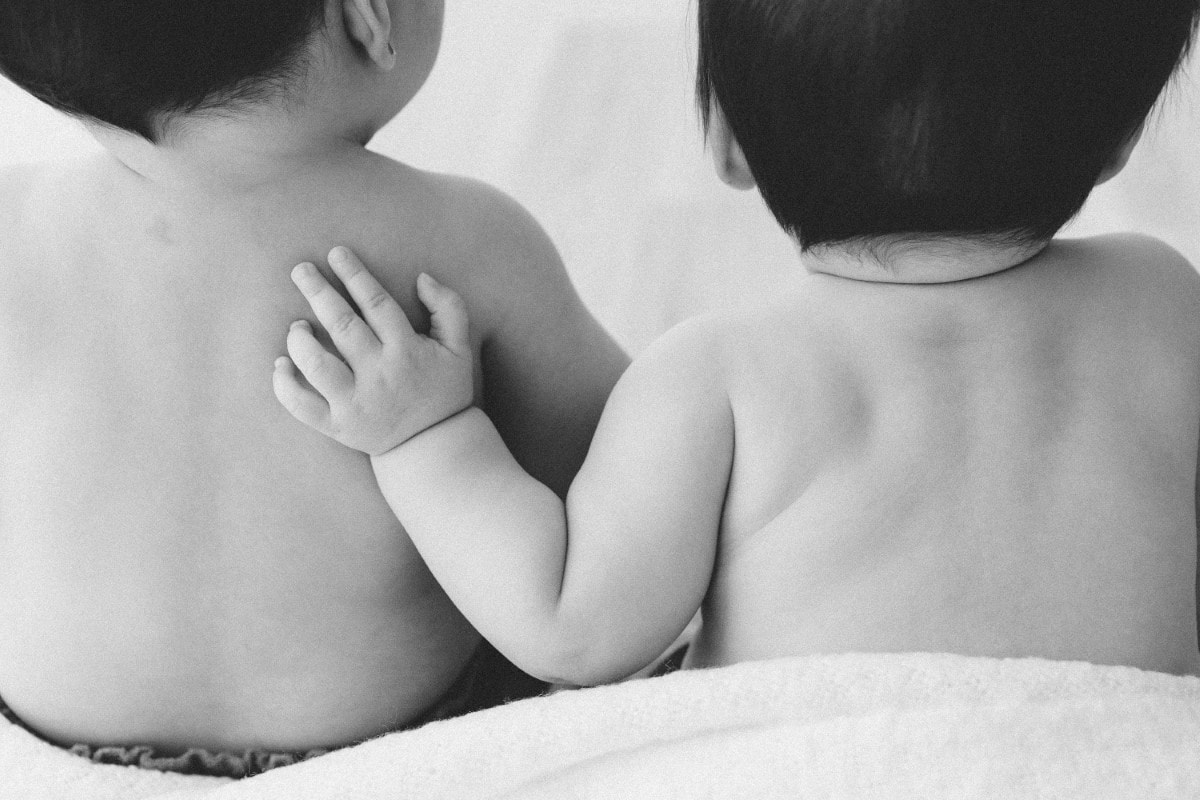 Studio sessions.
In Barcelona.
A short, minimalist proposal.
The best time to photograph babies is when they start scooting or crawling.
At around 6 months, babies begin to gain mobility: they roll, they creep or they scoot on their belly. Within a short period of time they also manage to sit up without support. The next big milestone is crawling (although not all of them do! There are also babies that skip crawling and simply start to walk). In addition to all these skills, it is also a time of great interaction: they make faces, smile, laugh, imitate adults and have their own arsenal of expressions and faces. From a photographer's point of view, a world of possibilities opens up because babies are no longer just lying down all the time or 100% dependent on being held by an adult. Instead, they can move at will.
Baby crawling photo sessions: absolute stars in front of the camera
Baby photo sessions for crawlers have many advantages: they are short, they are fun and we are able to take tons of beautiful pictures. My style is minimalist and simple, so that the baby is the real star. Pictures of the baby are taken with very little or no clothing so that you can see their hands, feet and belly: every single part of their body that you feel the urge to eat 😉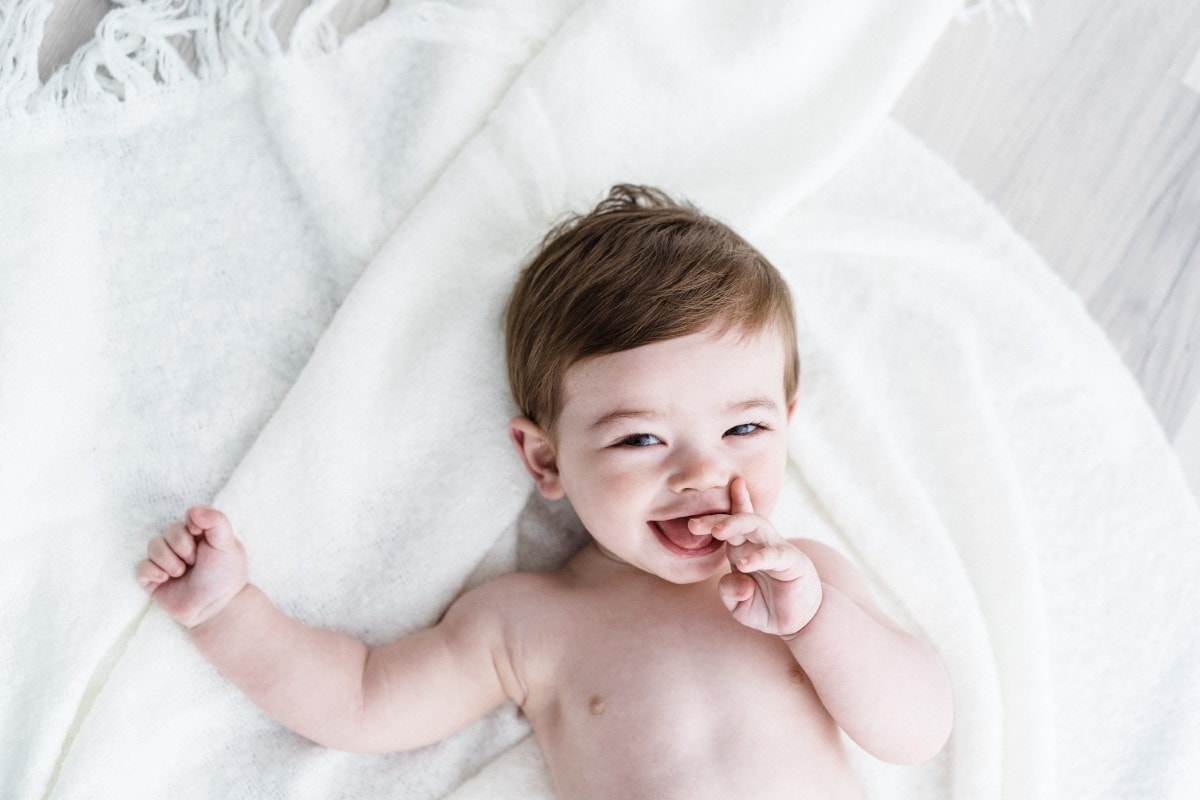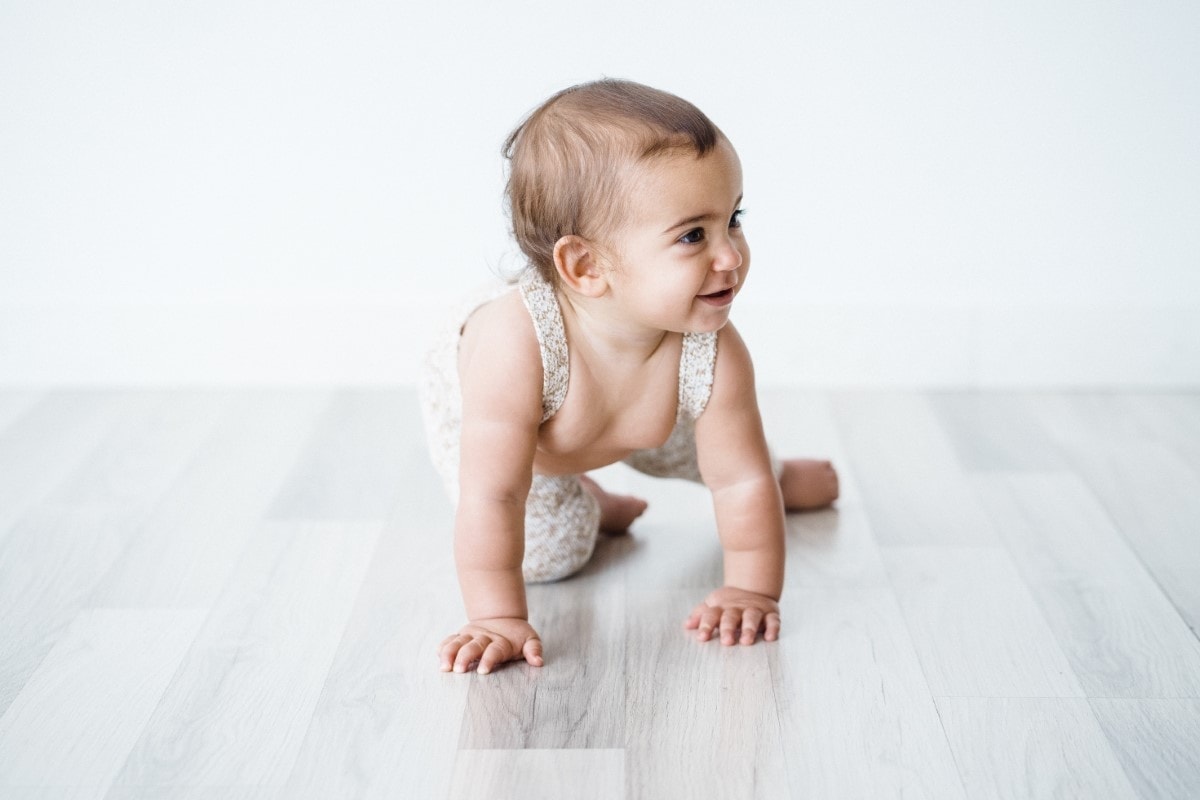 When is the best time to take pictures of a crawling baby?
This is a tough question, because every baby reaches milestones at a different pace. So basically, your baby may vary. Roughly speaking, photos can be taken between 6 and 12 months of age. Some babies stand up and walk at just ten months, while others start walking at around the two-year mark. So the best time to photograph a baby is when he or she is able to sit up without support. If the baby also creeps or crawls, all the better.. But it is best to photograph them before they start walking, since as soon as they stand up they become much faster and more elusive in front of the camera 😉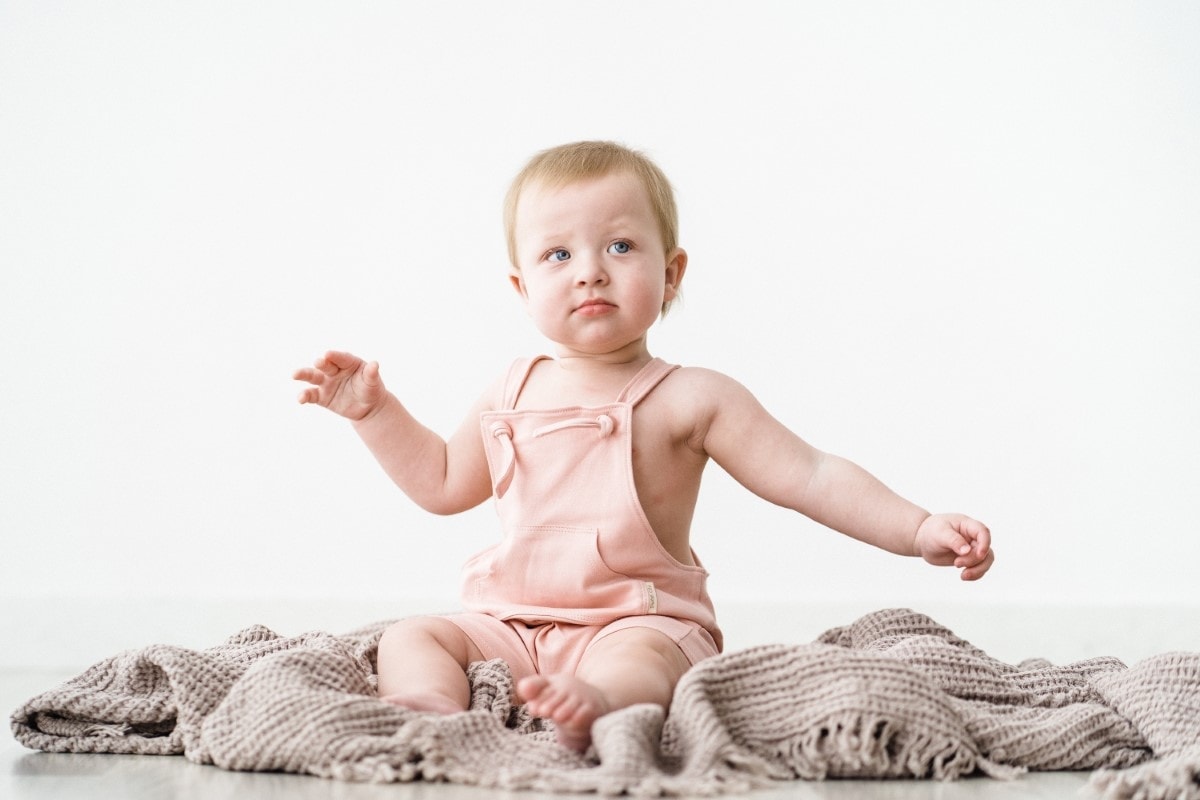 Frequently asked questions
What time of day is best for the photo shoot?
A baby that is a few months old will follow a relatively regular schedule, and neither a hungry nor a tired baby is a good idea if you are trying to create a relaxed environment. That's why it is best to avoid meal time or nap time.
Can siblings be in the photos? What about parents?
This proposal is 99% focused on the babies, so that they are the real stars and these kind of sessions are a quick experience lasting about half an hour. If you (or the baby's siblings) also want to be in the pictures, my advice is to hire a family photo session, where we will aim at capturing your genuine interaction as a family.
What should I wear? What do I need to bring?
My studio is an open space ideally suited for babies and kids to freely explore. We can use blankets and soft fabrics as backdrops and wooden toys to touch and chew 😉 As for what to wear, I always recommend that you bring an extra outfit just in case, but these sessions are designed to show off your baby's body in all its glory, so the less clothing, the better. In the studio I have a few culottes in different sizes, and you can also bring your own. I will also gladly take pictures without clothes or diaper.
What will the resulting pictures look like?
I really don't care whether the baby looks at the camera or smiles. It's all about letting them explore, experiment and enjoy. At this age, everything should go smoothly and in a short time we will manage to have a lot of tender and funny images. For me, an image of a real experience conveys a lot more than a fake smile. A baby doesn't know how to pose, but they will interact and smile or grimace. Call it natural posing if you like. They also like to play by imitating gestures or sounds, or playing peek-a.boo…
Are digital images included?
Yes, all packages include digital files. I will cull and edit the best images and prepare an online gallery for you, where you can choose the images you like best. Some packages also include wooden displays or albums. Whatever your preference is, do something with your photos: don't let them just sit on a flash drive. Print them, make a collage, create an album… the only limit is your imagination. But make sure your pictures are seen by your loved ones. It makes no sense to keep them in a digital drawer 😉
Do you want to make an original and different gift? Gift a photography session!
A photo shoot can be a fantastic gift for special occasions:
Mother's Day, Father's Day… (or grandma's!)
For a baptism, a birthday, or a wedding.
To encourage someone at a difficult time in their life.
However, BEFORE you give someone a photo session as a gift, make sure you get it right: Is that person a photography lover? Has he/she had a photo session before? Whatstyle of images does he/she like?
A photo shoot is a very personal and customized experience, so before reaching out to me please make sure the person you want to gift it to is as excited about the idea as you are.

Estamos encantados con el trabajo realizado por Victoria.No es la típica sesión de fotos en la que posas como el fotógrafo te dice y ale, te vas para casa. Al contrario, es una sesión en la que todo fluye. Los niños hacen a su antojo, juegan, corren, gritan y lloran. Tú te dejas llevar y te olvidas de que te están retratando y ella va disparando con su cámara y capta momentos realmente naturales y preciosos.
Veronica S.
21:06 03 Dec 22
El treball de la Victòria és sempre excepcional. És única captant els moments i envoltant-los de pau i tranquil.litat. Sense dubte una gran professional i persona.
Un estudi amb una llum natural i un ambient inmillorables....i unes fotos resultants espectaculars! Divertides, espontànies i amb molta essència. Un record valuós que podrem guardar sempre!
Sense pressio, sense expectatives, vas i treura el millor de tu, de la familia, dels somriures i dels no-somriures. Hem repetit quatre vegades amb les mini-sesssions i tornarem segur!
Cristina C.
10:04 27 Nov 22
Una gran experiència que segur repetirem! La Victòria és amable, atenta i et fa sentir com a casa al seu estudi lluminós i agradable. Un record inolidable d'una sessió divertida amb un resultat espectacular!!!! Totes les fotos són xulíssimes i no sabem quines escollir, per això les imprimirem totes. GRÀCIES!!!
Elisenda Vendrell S.
08:20 26 Nov 22
Estem encantats, cada any repetim. Es com estar a casa. Excelent professional i persona!
Anar a fer-nos fotos amb la Victòria és un èxit assegurat. Aconsegueix que tots ens sentim com a casa, o millor, i això s'acaba reflectint a les fotos. Ara la feina és meva per decidir quines imprimirem. Pura meravella!!! Ja ens hem fet tres sessions al llarg de 4 anys i cada cop surto més encantada. El meu fill l'adora! "Mamà i podré saltar i fer el boig com altres vegades?"
Cristina Fernández V.
20:20 21 Nov 22
Si quieres fotos bonitas familiares acertarás seguro, nosotros "fichamos" una vez al año desde hace 9 años ya así que poco más que añadir! 😉
Maria Rosa B.
11:56 15 Nov 22
Fantàstica experiència. Les fotos són una marevella!
Una sessió molt còmoda i entretinguda. Les fotos són molt xules! Els emails de la Victòria els trobo molt divertits i naturals i em posen de bon humor (per això estic subscrita).
Me decidi por ella por los comentarios antetiores, por ver fotos de su trabajo y la cercania de estar en barcelona e ir en transporte público.En todo momento nos hizo sentir libres y muy comodos ,nos dio consejos para conseguir lo que buscavamos.Los niños en ningun momento se agobiaron todo lo contrario se lo pasaron muy bien.Es un chica muy empatica, con paciencia y sobretodo profesional.Es mi 1a sesion en familia y salimos muy satisfechos.Facilidad para cojer citas.Gracias!
Cristina R.
07:31 08 Nov 22
Un matí bonic amb una bona professional, ens va estar retratant mentres xerràvem, jugàvem i compartíem impressions sobre la maternitat. Ens vàrem decidir amb ella perq quan vaig veure les fotografies de varies amigues. Té un estil molt personal, fa fotografies de detall captant moments de tot tipus, sap trobar el què, l'essència de cada moment i persona. Súper contents amb el resultat! RECOMANADISSIMA!
irene dalmau V.
06:54 24 Oct 22
Et fa sentir com a casa i les fotos transmeten aquesta naturalitat i senzillesa de la llar. El resultat és increïble, repetirem!
MªCarmen Fernández A.
10:10 10 Sep 22
La sessió amb la Victòria va ser un regal sorpresa per tancar una etapa de lactància amb el meu fill i tenir unes imatges capturades pel record.Vam passar una estona preciosa, mica en mica guanyant confiança i sentint-nos més còmodes tot i tenir una càmera al davant.Gràcies Victòria per fer-ho fàci, fluïd i pels FOTONS que ens has enviat, no les podem deixar de mirar....cada una te alguna cosa especial que la fa única.Sens dubte, repetiriem l'experiència!
Llevamos varias sesiones con Victòria y para nosotros es confianza. Confianza en el resultado, pero sobre todo confianza en mostrarle nuestra vida tal como es, sin juicios, con amor y con esa mirada que sola ella sabe ver con su cámara y profesionalidad.Nos encanta las sesiones con ella, por las conversaciones y por cómo se adapta a nuestra familia, captando imágenes de nosotros, de nuestra realidad.En nuestra familia estamos seguros que nos acompañará durante años y será testigo del crecimiento de nuestros hijos.
Erika Montalván C.
05:56 01 Sep 22
Hemos tenido muy buena experiencia con Victòria en la sesión de fotos en casa y exteriores. Da mucha confianza y se genera un ambiente muy relajado y cómodo para hacer las fotos. Genial el trato con los peques. Impecable en las medidas actuales antiCOVID. ¡Muy recomendable!Actualizo: hemos repetido, la experiencia ha sido fantástica y el resultado precioso. Es fantástico poder documentar una tarde en familia para el recuerdo. Recomendable 100%
Segunda vez con ella, una pasada! Los niños se sintieron super cómodos y el resultado espectacular. No hemos podido escoger entre las fotos y nos las quedamos todas!
He hecho varias sesiones de fotos, las típicas, vas al estudio, posas, intentas que las niñas rían, o que por los menos no lloren, y tienes tú pack te 10-20 fotos familiares chulas. Pero con Victoria ha sido otro nivel!! Ya te lo advierte en sus redes, no es fotógrafa de poses, de familias vestidas igual, no tienes que hacer nada, no tienes que planificar nada, que arreglar nada, llega a tu casa como una amiga, de visita, y comienzas a charlar con ella, saca su cámara y empieza la magia, estuvo cerca de 3 horas con nosotros, pero no te das cuenta del tiempo, porque continuas haciendo tus cosas, juegas con las niñas, órdenas cosas o contestas llamadas, al cabo de un rato te olvidas que está, te sientes libre de hacer y de no hacer nada, mis niñas no quisieron vestirse, y eso no fue un problema, saltaban, corrían, etc, hacen lo que hacen los niños, sin poses, ni fondos rosa (que me encantan☺️), no tenía idea de cómo sería el resultado, pero confíe en ella, y en el trabajo que muestra en sus redes .. 2-3 semanas después, me llega el enlace, "ya están tus fotos", OMG, mas de 100 fotos!!! No están repetidas, no tuve que seleccionar/escoger nada!, Todas son mías, todas son diferentes, y muestran mi realidad en ese momento, no hay palabras de verdad, quedamos más que satisfechos con el resultado!!! Mi marido lo dijo: de lejos, las mejores fotos que nos han hecho. Y no es por menospreciar el trabajo de los otros fotografos, pero Victoria incorpora la realidad, invita al relax e intenta no influir, te hace sentir que "no te están haciendo fotos", están retrasando un momento real de tu vida.. en fin, que las fotos son ESPECTACULARES, que nos la hemos pasado súper bien, y que nos volveremos a ver sin lugar a dudas. Tú trabajo es maravilloso Victoria, un abrazo!!
Fa temps que segueixo a la Victòria per Instagram, m'agrada molt el seu estil intimista i natural que destil·len totes les seves fotografies. Vam contactar amb ella per fer una sessió a casa i tenir un record de la costa quotidianitat. Durant la sessió vam passar una estona molt agradable, ella és un encant i fa molt fàcil el relaxar-se i oblidar-se que va disparant amb la seva càmera. I finalment, el millor de tot, el resultat. Avui hem rebut unes fotos tan precioses que ens hem emocionat. Ens sentim molt afortunats que hagi capturat aquest moments en família, sense dubte el millor record. Repetirem l'experiència segur!
Elisabet F.
15:50 20 Jul 22
Genial la sessió de fotos amb el nostre petit al estudi de la Victoria. Ella és un encant, i va fer que tant jo com la meva parella i el petit ens sentissim com a casa i molt còmodes durant tota l'estona que hi varem estar. De ben segur que repetirem amb ella.
Victòria Peñafiel Fotografia
Carrer de Sicília, 253, 6è, 2n,
08025 Barcelona