Photography of CRAWLING BABIES
That moment when you want to eat them. Like, literally. The moment they learn to sit up, start to move (sometimes in unlikely ways) or try to stand up while making funny faces and hilarious noises. A short, fun and minimalist session. Because I want to eat babies, too 😉
Photo shoots of crawling babies in Barcelona
WHEN: when the baby is sitting and/or crawling, but not walking yet.
HOW: minimalist portraits of your baby.
WHERE: in my photography studio in Barcelona.
INVESTMENT: from 230 €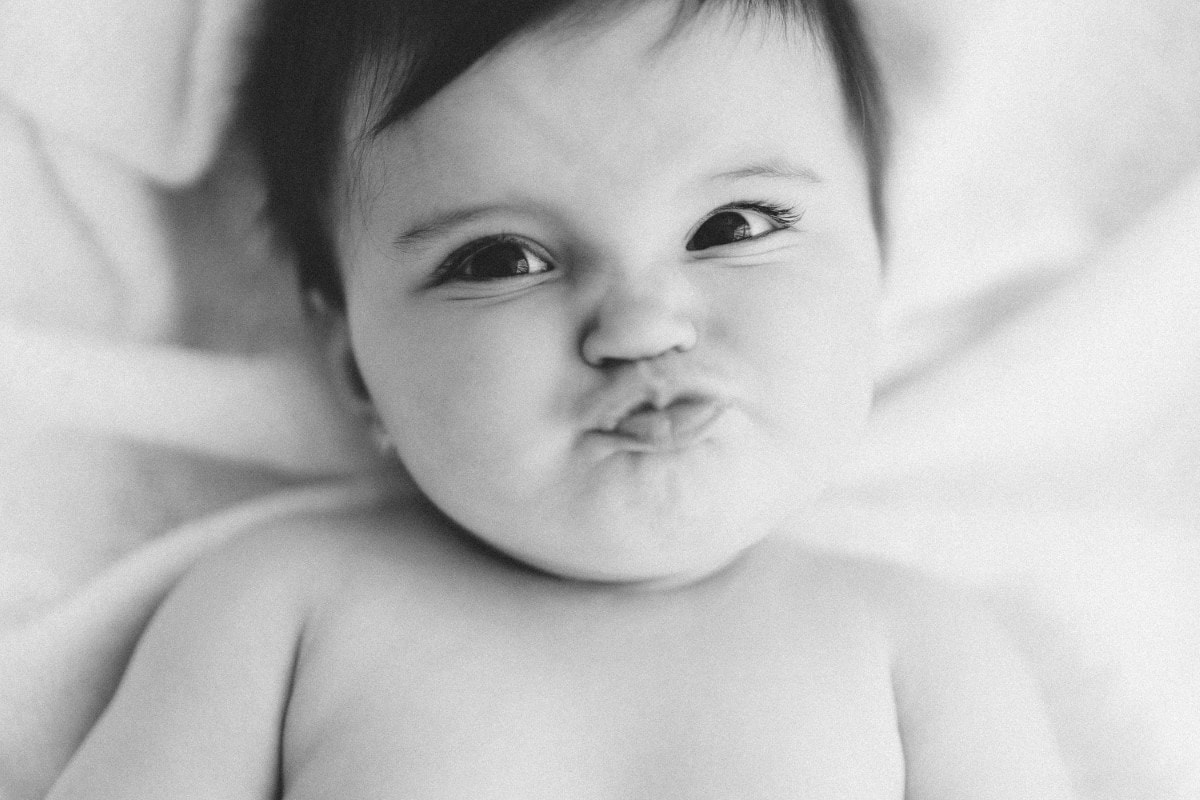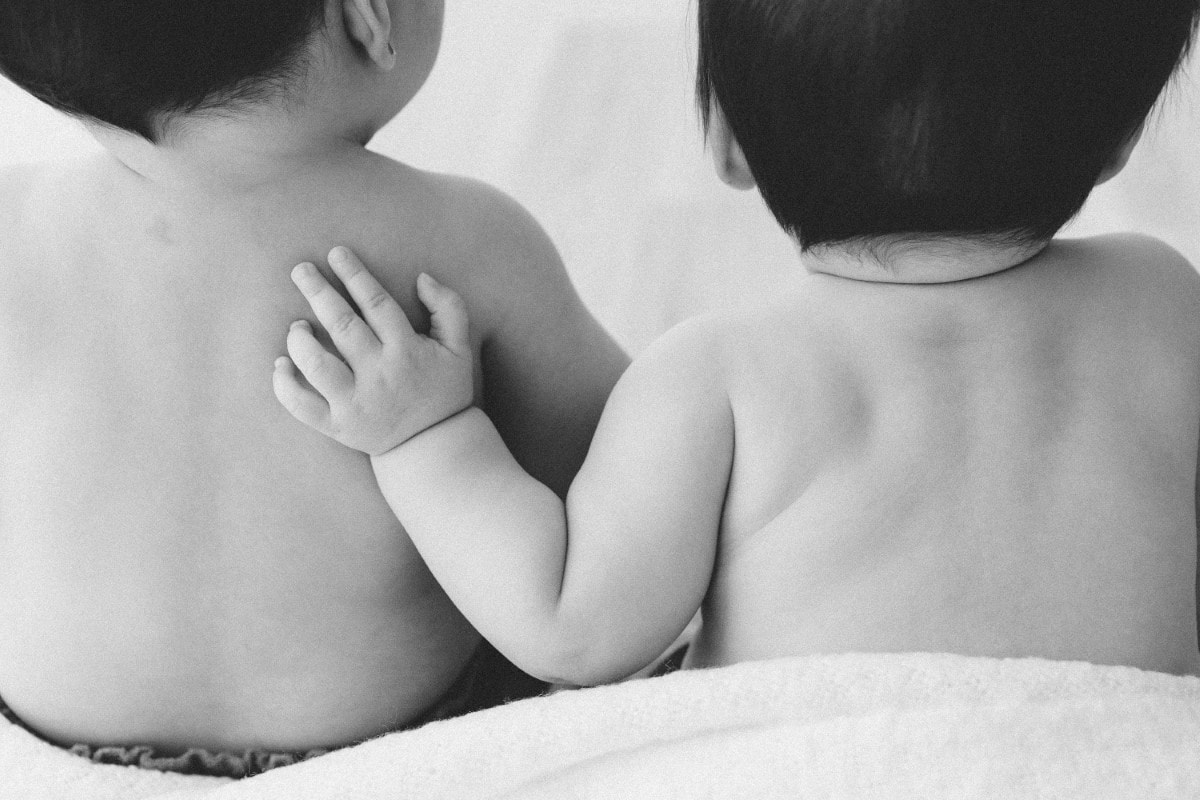 Studio sessions.
In Barcelona.
A short, minimalist proposal.
The best time to photograph babies is when they start scooting or crawling.
At around 6 months, babies begin to gain mobility: they roll, they creep or they scoot on their belly. Within a short period of time they also manage to sit up without support. The next big milestone is crawling (although not all of them do! There are also babies that skip crawling and simply start to walk). In addition to all these skills, it is also a time of great interaction: they make faces, smile, laugh, imitate adults and have their own arsenal of expressions and faces. From a photographer's point of view, a world of possibilities opens up because babies are no longer just lying down all the time or 100% dependent on being held by an adult. Instead, they can move at will.
Baby crawling photo sessions: absolute stars in front of the camera
Baby photo sessions for crawlers have many advantages: they are short, they are fun and we are able to take tons of beautiful pictures. My style is minimalist and simple, so that the baby is the real star. Pictures of the baby are taken with very little or no clothing so that you can see their hands, feet and belly: every single part of their body that you feel the urge to eat 😉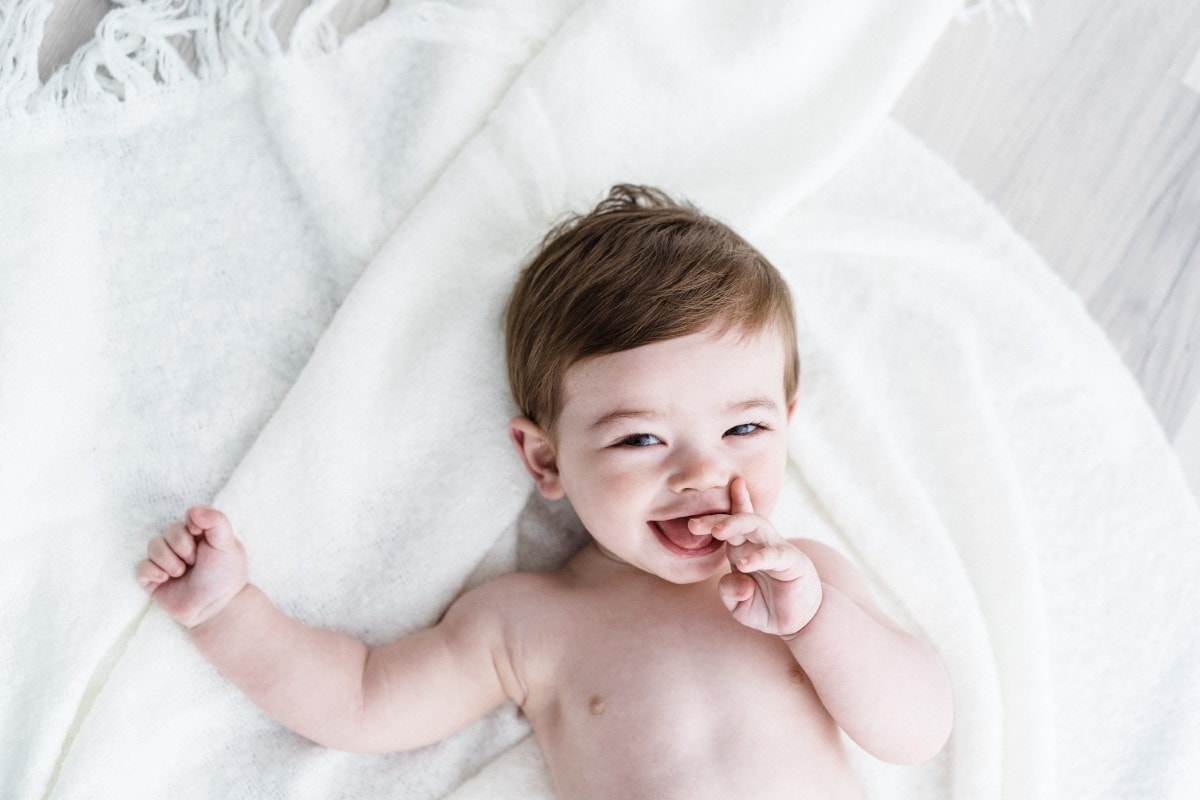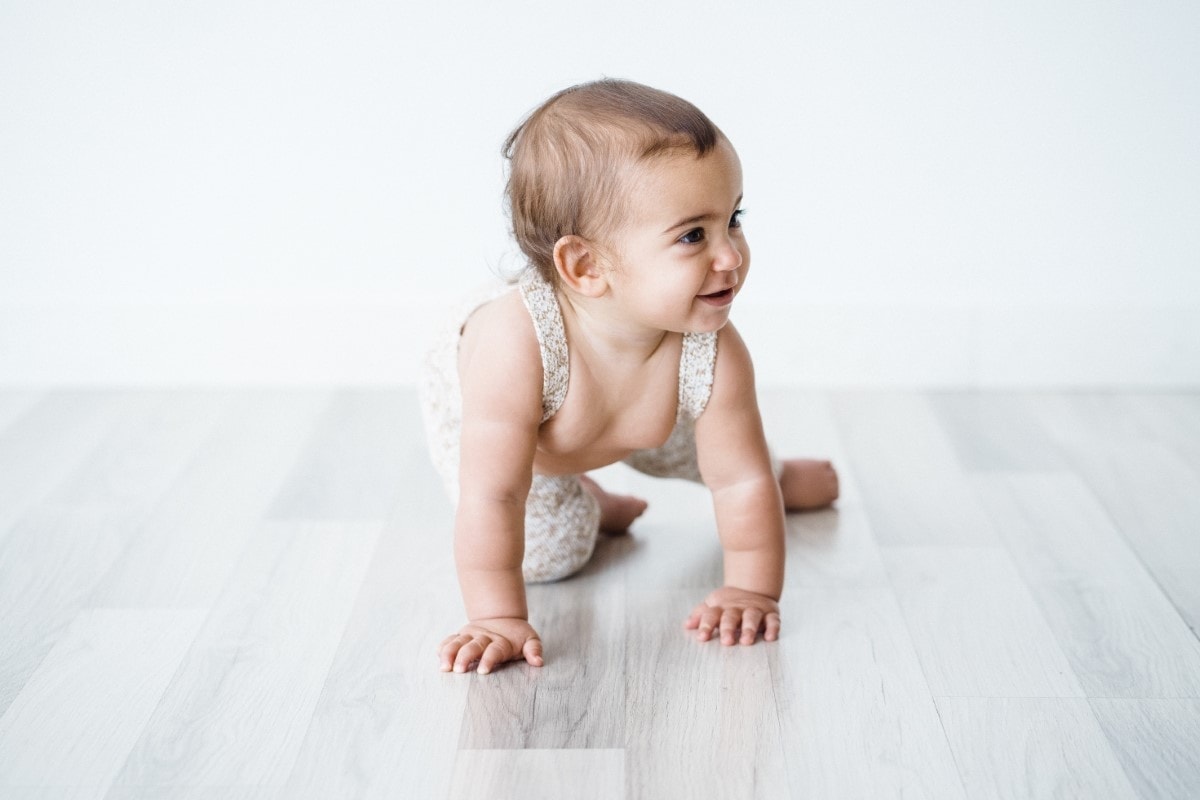 When is the best time to take pictures of a crawling baby?
This is a tough question, because every baby reaches milestones at a different pace. So basically, your baby may vary. Roughly speaking, photos can be taken between 6 and 12 months of age. Some babies stand up and walk at just ten months, while others start walking at around the two-year mark. So the best time to photograph a baby is when he or she is able to sit up without support. If the baby also creeps or crawls, all the better.. But it is best to photograph them before they start walking, since as soon as they stand up they become much faster and more elusive in front of the camera 😉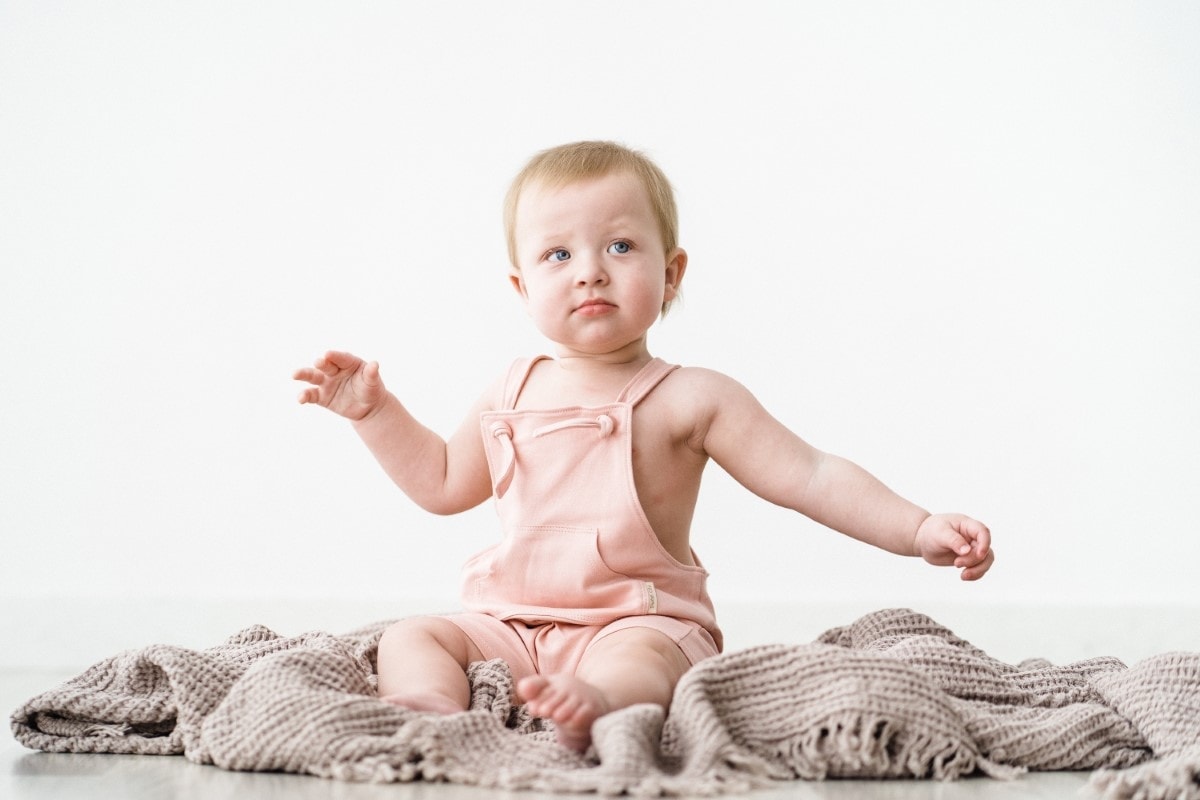 Frequently asked questions
What time of day is best for the photo shoot?
A baby that is a few months old will follow a relatively regular schedule, and neither a hungry nor a tired baby is a good idea if you are trying to create a relaxed environment. That's why it is best to avoid meal time or nap time.
Can siblings be in the photos? What about parents?
This proposal is 99% focused on the babies, so that they are the real stars and these kind of sessions are a quick experience lasting about half an hour. If you (or the baby's siblings) also want to be in the pictures, my advice is to hire a family photo session, where we will aim at capturing your genuine interaction as a family.
What should I wear? What do I need to bring?
My studio is an open space ideally suited for babies and kids to freely explore. We can use blankets and soft fabrics as backdrops and wooden toys to touch and chew 😉 As for what to wear, I always recommend that you bring an extra outfit just in case, but these sessions are designed to show off your baby's body in all its glory, so the less clothing, the better. In the studio I have a few culottes in different sizes, and you can also bring your own. I will also gladly take pictures without clothes or diaper.
What will the resulting pictures look like?
I really don't care whether the baby looks at the camera or smiles. It's all about letting them explore, experiment and enjoy. At this age, everything should go smoothly and in a short time we will manage to have a lot of tender and funny images. For me, an image of a real experience conveys a lot more than a fake smile. A baby doesn't know how to pose, but they will interact and smile or grimace. Call it natural posing if you like. They also like to play by imitating gestures or sounds, or playing peek-a.boo…
Are digital images included?
Yes, all packages include digital files. I will cull and edit the best images and prepare an online gallery for you, where you can choose the images you like best. Some packages also include wooden displays or albums. Whatever your preference is, do something with your photos: don't let them just sit on a flash drive. Print them, make a collage, create an album… the only limit is your imagination. But make sure your pictures are seen by your loved ones. It makes no sense to keep them in a digital drawer 😉
Do you want to make an original and different gift? Gift a photography session!
A photo shoot can be a fantastic gift for special occasions:
Mother's Day, Father's Day… (or grandma's!)
For a baptism, a birthday, or a wedding.
To encourage someone at a difficult time in their life.
However, BEFORE you give someone a photo session as a gift, make sure you get it right: Is that person a photography lover? Has he/she had a photo session before? Whatstyle of images does he/she like?
A photo shoot is a very personal and customized experience, so before reaching out to me please make sure the person you want to gift it to is as excited about the idea as you are.

Muy muy recomendable!! Nos lo pasamos genial tanto el peque como los padres, fue un ratito muy agradable en el que Victoria hizo todo lo posible para que el peque estuviera muy a gusto. Y en cuanto nos llegaron las fotos nos quedamos aún más entusiasmados, captó momentos que ni yo me di cuenta que sucedieran. Así que repito, muy muy recomendable!!
Vam anar a l'estudi de la Victòria perquè havíem vist fotos seves a Instagram i volíem ser els protagonistes d'aquelles fotografies. Des del primer moment ens vam sentir com a casa, les escenes s'anaven produint com un joc mentre ella les capturava amb la seva càmera. Vam parlar de la vida, vam riure... Ens ho vam passar tan bé que ja estem pensant en la propera excusa per poder tornar.
Fa 3 setmanes vam fer-nos una sessió de fotos familiar amb la Victòria Peñafiel i no podem estar més encantats! La vam escollir a ella perquè ens va agradar molt el seu estil quan la vam trobar a instagram (espontani, natural, respectuós) i el resultat que aconsegueix a les fotos és espectacular! Les vam rebre l'altre dia i estem emocionats: ha captat la nostra essència, les nostres expressions facials, la nostra interacció... És un record que val molt la pena! 🥰 A més, quan vas a fer-te la sessió al seu estudi, no et fa "posar" ni fer res especial: vam estar allà jugant amb la nostra bebè com quan estem a casa, mentre conversàvem entre nosaltres i amb la Victòria (ambient distès, familiar, còmode...). La recomanem moltíssim 💜
Sandra Faure A.
10:56 18 Mar 23
A nosaltres ens van regalar la sessió pel naixement de la nostra filla i ens vem esperar a que la petita tingués 6 mesos per a fer-la. El regal era una sessió de 1 horeta al seu estudi i 15 fotos a triar de la galeria on-line.Una experiència preciosa. La Victòria es molt simpàtica i fa que la sessió de fotos sigui còmode, entretinguda i fàcil per a tots els membres de la familia. És molt observadora i respectuosa amb l'estat d'ànim de tothom i s'adapta molt bé a qualsevol situació que es pugui donar durant la sessió. Vem sortir molt contents del seu estudi i quan ens van arribar les fotos vem flipar molt fort amb el resultat.Unes fotos tan precioses que vem comprar el següent pack (el pack 2 FAMILIA) per poder-nos quedar amb tota la galeria de fotos que ens va ensenyar. Unes fotos super naturals, que capten detalls molt bonics de la peque, de la lactància materna i dels vincles familiars en general. Si mai volem tornar a fer una sessió de fotos familiar no dubtarem gens en tornar a fer-ho amb ella.Recomenable 100%
Una experiència fantàstica amb un resultat perfecte! Hem escollit la Victòria per fer una sessió de família i ens ha encantat de principi a final, un tracte súper proper i unes fotos súper naturals que han captat el millor de nosaltres 🙂 Repetirem segur!
Anna Gené M.
15:41 02 Mar 23
Ės la primera vegada que vaig a una sessió de fotos. Volia un retrat i he trobat just el que buscava! Tinc moltes ganes de repetir però amb una sessió familiar.
Ariadna Kun M.
10:23 25 Feb 23
Les fotos de la Victòria transmeten naturalitat i saben captar la vida sense posats. Un gran acert fer la sessió newborn amb ella.La Victòria és un encant, empática i pacient. Ens va fer sentir molt còmodes i vam poder reviure el record de l'embaras i naixement de les petites.Gràcies per la sensibilitat amb la que mires a les persones i en especial als més petits.Ens tornem a veure en uns mesos 🙂
Hoy en día pensamos que todos somos fotógrafos pero cuando ves la emoción que es capaz de captar Victòria con un solo clic vale la pena invertir en una sesión en su estudio. Es un gran regalo o autoregalo. Las fotos nos acompañan el resto de nuestra vida y un instante de emoción real en un marco nos arranca una sonrisa y nos recuerda quién somos y a quién amamos.
Cristina B.
11:42 23 Feb 23
Quan buscava algú per fer-nos fotos en família, de seguida vaig pensar en la Victòria, ja que era coneguda d'una amiga i en tenia molt bones referències. De tota manera, vaig fer una ullada a la seva web i em vaig acabar de convèncer. Un cop a la sessió de fotos, em va agradar molt la naturalitat amb què es va desenvolupar tot. Buscant obtenir fotos desenfadades i naturals a través de la seva actitud de proximitat, ens va ser fàcil, i sobretot als nens, sentir-nos a gust en un context on de normal, si no hi estàs habituat, et podries sentir molt cohibit. El resultat, un conjunt de fotos "sense extres" més enllà de la bonica interacció familiar. Va ser un plaer i estem pensant en repetir un cop el nou membre de la família ja estigui entre nosaltres.
Anna Camps B.
19:53 18 Feb 23
Una experiencia genial!!! Nos ha encantado.Nos ha hecho sentir muy cómodos. Súper profesional e interesante. Totalmente recomendable.
Boníssima experiència i un record inmillorable tant de les últimes setmanes d'embaràs com dels primers dies en família de 4.La nostra filla de 2 anys ho va gaudir moltíssim sense parar un minut quieta. Ens ha encantat!
Cristina C.
22:40 05 Feb 23
Fotografías preciosas, naturales, reales, sin florituras. Victoria hace MAGIA detrás del objetivo. Conocí su trabajo cuando tuve a mi primer hijo porque buscaba fotos naturales a la vez que bonitas, y el resultado de la sesión fue espectacular. No dudé en repetir este año cuando nació mi hija. Muy recomendable!
Marina C (.
10:19 02 Feb 23
Encantados con el trabajo de Victòria. En su estudio te sentirás como en casa y ella logrará sacar de ti las mejores fotos de una forma natural. Un recuerdo para toda la vida. Quizá tiene un precio más elevado que otras opciones, pero el balance es positivo.
Rafael Gargallo D.
16:28 23 Jan 23
La meva família i jo estem molt contents de la sessió fotogràfica. La veritat és que sempre ens haviem fet enrere alhora de pensar en una sessió de fotos ja que no ens agrada el postureig i amb el petit i la petita era difícil i la veritat és que va ser tot molt natural i espontani. El petit, que és un belluguet, s'ho va passar genial i una setmana després encara deia que volia anar a jugar a "casa de la Victòria ". A part, tot i que encara ens falten algunes imatges, les que tenim han quedat genials. Un gran record. Gràcies Victòria
Yo viviría en las fotos de Victòria.Gran persona y gran profesional. Siempre te sientes en casa aunque no lo estés.Es un lujo y un placer que este ser humano inmortalice momentos de tu vida.Elegancia, cuidado, amor… una vez te hace fotos Victòria, ya no quieres que te las haga nadie más.Si estáis dudando contratar sus servicios, dejad de hacerlo. Es la mejor fotógrafa que podéis encontrar. Maravillosa
Feia temps que volia fer una sessió de fotos però no trobava la persona. Quan vaig descobrir a la Victòria ho vaig tenir clar. La volia a ella. Té moltes opcions de sessions i vem trobar la que ens encaixava millor amb la nostra manera de ser. Les fotos amb petits no són fàcils i ella ho va fer tot perquè ens sentissim a gust i va treure el millor de tots. A més ho fa tan natural que et sents com a casa. Sense posats ni res, com qui no vol la cosa, ens ha regalat unes fotografies precioses. La volia per ser la millor fotògrafa però ara que la coneixem encara estem més contents. Gràcies per tot Victòria!
Estamos encantados con el trabajo realizado por Victoria.No es la típica sesión de fotos en la que posas como el fotógrafo te dice y ale, te vas para casa. Al contrario, es una sesión en la que todo fluye. Los niños hacen a su antojo, juegan, corren, gritan y lloran. Tú te dejas llevar y te olvidas de que te están retratando y ella va disparando con su cámara y capta momentos realmente naturales y preciosos.
Veronica S.
21:06 03 Dec 22
El treball de la Victòria és sempre excepcional. És única captant els moments i envoltant-los de pau i tranquil.litat. Sense dubte una gran professional i persona.
Un estudi amb una llum natural i un ambient inmillorables....i unes fotos resultants espectaculars! Divertides, espontànies i amb molta essència. Un record valuós que podrem guardar sempre!
Sense pressio, sense expectatives, vas i treura el millor de tu, de la familia, dels somriures i dels no-somriures. Hem repetit quatre vegades amb les mini-sesssions i tornarem segur!
Cristina C.
10:04 27 Nov 22
Victòria Peñafiel Fotografia
Carrer de Sicília, 253, 6è, 2n,
08025 Barcelona