Newborn photography in Barcelona
Newborn photography in Barcelona. Natural, minimalist, lifestyle pictures of your newborn baby. A newborn session provides an excellent opportunity for you to pause and enjoy a peaceful moment amidst the chaos of the first few days after giving birth. If you're looking for natural and intimate photos of your baby, I am the perfect photographer for you. How would you like to capture memories of your baby's first few days in pictures?
Newborn photo sessions in Barcelona
WHEN: preferably during the first 2 weeks of life.
HOW: natural, minimalist style, no posing.
WHERE: in my photography studio in Barcelona.
INVESTMENT: from 350 € (at home) – 395 € (in studio)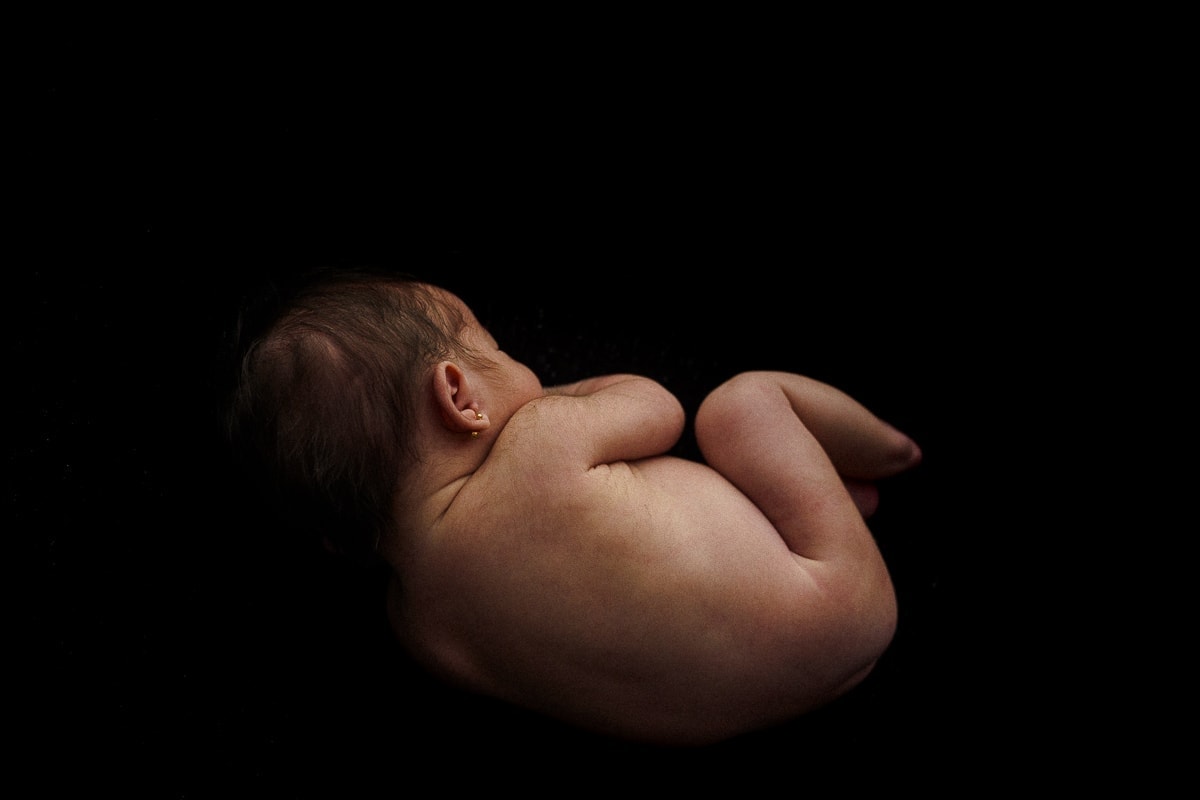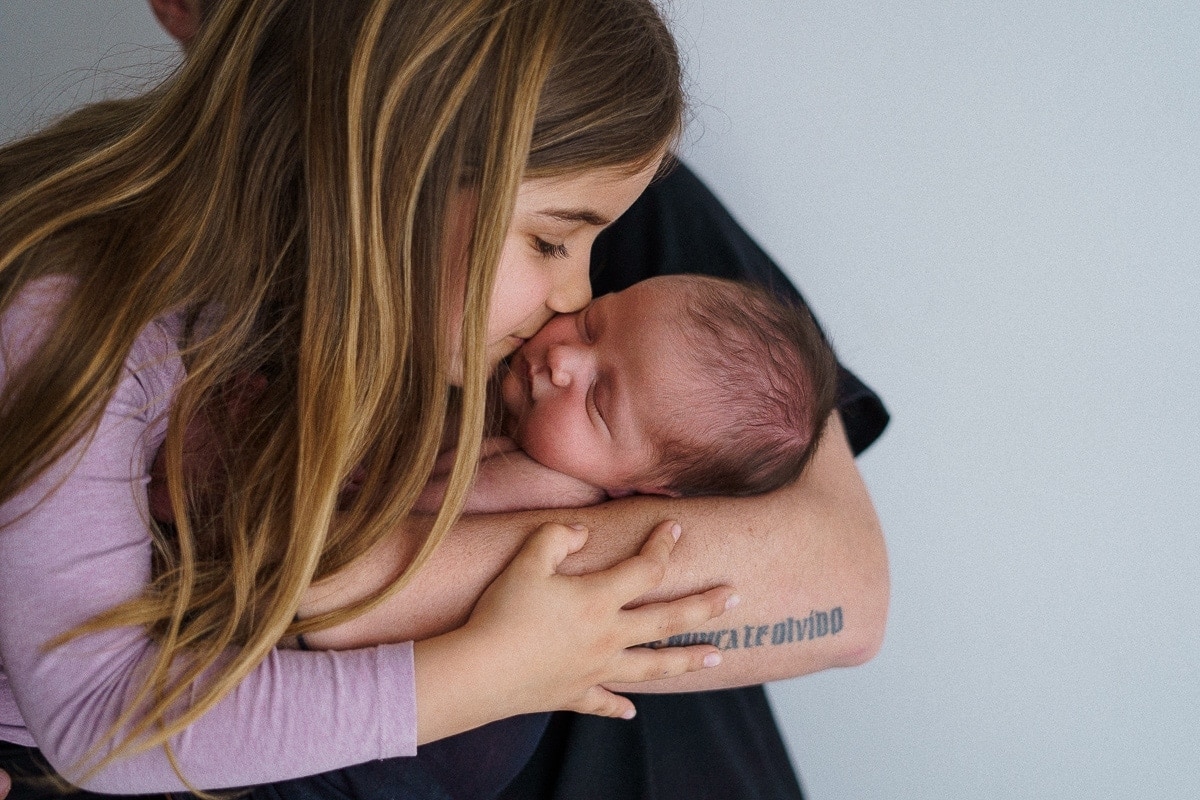 Are you hesitant about doing a photo shoot with your newborn baby?
You may really want to do it, but you can't seem to make up your mind. These pictures are beautiful, but… will you really be in the mood to visit a photographer after giving birth? What if your baby cries during the session? What if the experience feels more like a burden instead of a pleasure? Are these kind of pictures really worth taking? The answer is a resounding yes. Why? Because it is a unique and fleeting moment, and newborns change very fast. In just a few days, they are no longer considered "newborns" and lose their unique characteristics, such as their silky skin, thin paper-like nails, perfect complexion, soft and very fine hair, and fetal position.
You may be thinking that you can take the pictures yourself, but will you be in them? Hiring a professional photographer to capture the moment is also a gift to yourself, as it allows you to fully enjoy the experience without worrying about taking the perfect shot.
Natural and minimalist newborn photography that respects both the newborn baby and the mother.
With over 10 years of experience, I still find joy in observing and capturing the essence of babies. Newborns are, in many ways, unpredictable, and it is not uncommon for there to be times when they are uncomfortable, hungry or unhappy. Each baby is unique, and as a newborn photographer, I adapt and improvise to capture their true essence. I avoid forced poses and excessive use of props, aiming to showcase your baby as they are and preserve authentic moments..
During the photo shoot, I prioritize the natural bond between you and your baby. Instead, I encourage you to hold your baby, caress them, and shower them with kisses while enjoying your time together.
While the focus is on the baby, I believe it's important to capture the emotional and physical intensity shared between a mother and child. So, I encourage mothers to be in the pictures too.
Forget about unrealistic beauty standards; my goal is to capture the emotional and physical intensity of this fleeting moment, showcasing the connection and bond between mother and child.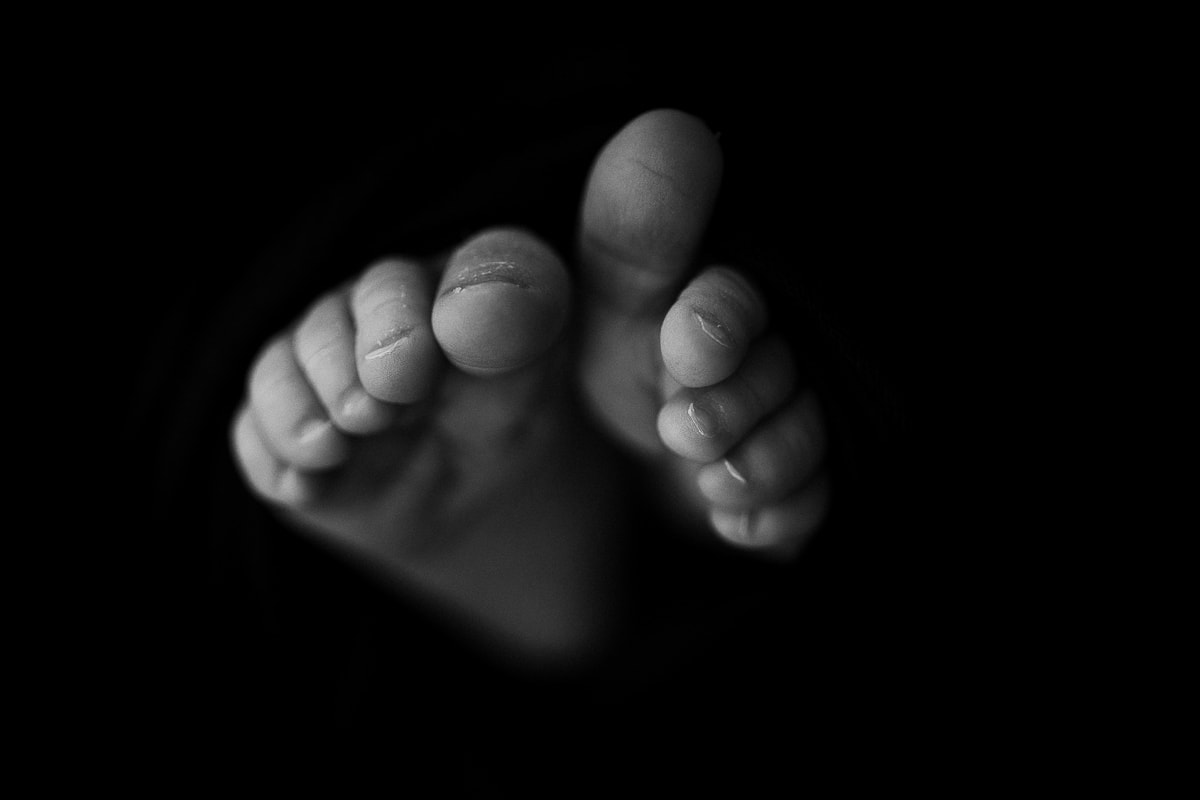 When is the best time for a newborn photoshoot?
There is no set deadline for a newborn photoshoot, as each photographer may work differently. However, I personally recommend scheduling a session as early as possible, ideally between 7 and 15 days old. After three weeks, babies often experience a growth spurtthat can make them fussy and difficult to work with. Additionally, at around one month old, babies may develop acne on their faces. Generally speaking, the older the baby is, the more dramatic are the changes: the baby will sleep less, his silky skin will become flaky, the soft fur on his ears and shoulders will slowly go away… While these changes can make it more challenging to capture the essence of a newborn, it is still possible to take photos at any age. Keep in mind that each baby and moment is unique. You can find more information on the best time to schedule a newborn session on my website.
Studio or at-home newborn sessions in Barcelona
IN STUDIO (NEWBORN SESSIONS) – I primarily work in my natural light studio in the center of Barcelona, near the Sagrada Familia. I understand that leaving the house with a newborn can be challenging, but a photoshoot is no different than any other outing you might take during those first few weeks of parenthood.
When you arrive at my studio, I will do everything possible to make you feel at home. There is a sofa, a breastfeeding cushion, and even a bed. You can take off your shoes and clothing and relax. Simply enjoy the experience.
AT YOUR HOME (POST-PARTUM SESSIONS) – I can come to your home within the metropolitan area of Barcelona. The resulting pictures will have a more documentary style. I will neither pose nor touch your baby. No beanbag, no props. I prefer to call them postpartum sessions, as they capture you as you are, with less emphasis on the baby's newborn features.
If you fear your home will not rise to the challenge, there is nothing to worry about. All we need is a cozy space and a window with natural light. We can take pictures on your bed, couch, or even while you're breastfeeding… It's your space, your home, your light. And your privacy. Contact me to learn more about scheduling an at-home session.
Capturing the essence of your newborn. And the bond between you.
I believe photographs of your newborn baby should bring you back to those magical first days together. That's why I really love to take a lot of pictures of tiny details, like flaky skin, toes, lips, fingers or eyelashes.
But beyond capturing your baby's features, it's equally important to show your connection with your little one. That's why I prefer to use your arms as a backdrop instead of relying on fancy props like flower baskets or wooden bowls. During the session, I encourage you to embrace skin-to-skin contact with your baby, which can reveal subtle details you might not have noticed in your day-to-day routine.
My photography style is natural, casual, and unobtrusive. Rather than giving a lot of direction, I prefer to observe and capture the beauty that naturally unfolds. Occasionally, I may offer suggestions to achieve a specific type of image, but otherwise, I want you to feel free to be yourselves and enjoy the experience.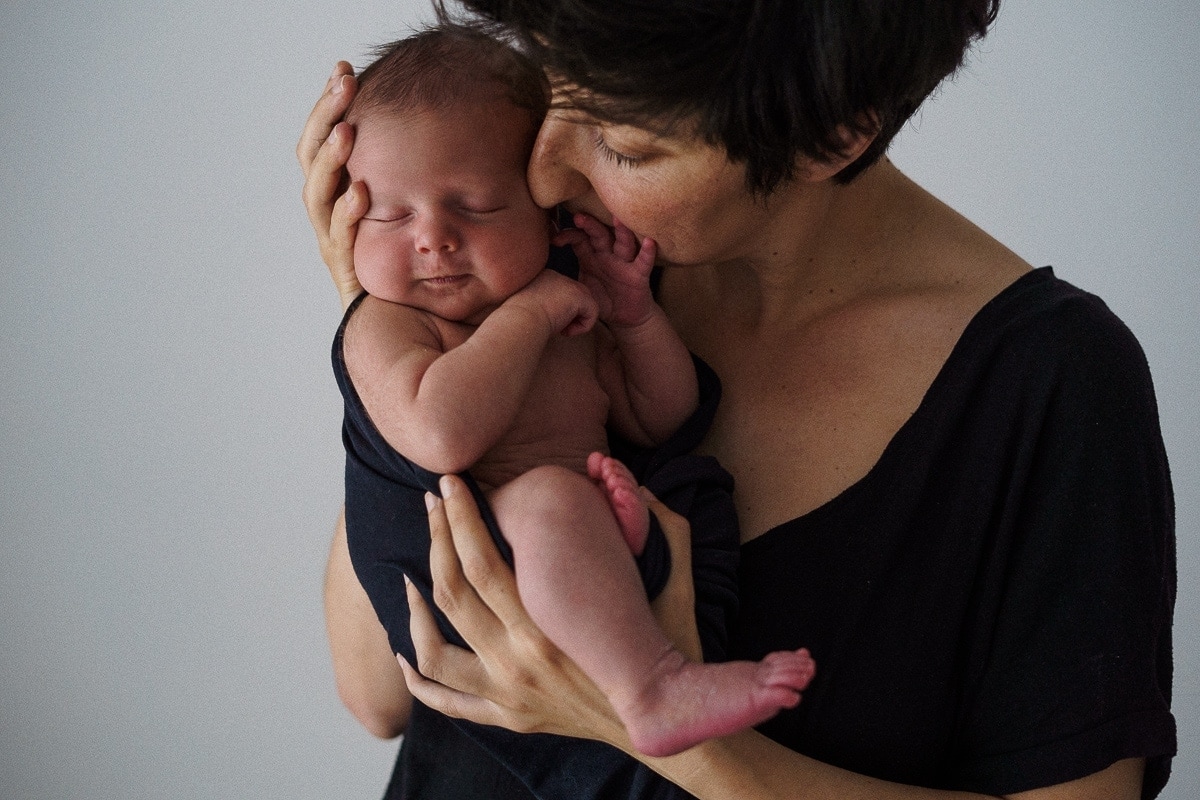 Frequently asked questions about newborn photography
Does the baby have to be asleep?
While it is true that most photos usually show a sleeping baby, pictures of your baby while awake can be equally beautiful. When newborn babies sleep, their face is relaxed and looks peaceful. On the other hand, when they are awake, they tend to make a lot of involuntary grimaces, but that is not bad news since funny faces can bring a touch of humor. In fact, a picture of the baby awake and relaxed can be incredibly powerful.
In order for the session to flow, we need to be calm. And for the baby to be calm, it is imperative that the parents (and the photographer) also remain calm. You can't photograph a newborn in a hurry, and you can't photograph them if they feel cold: the warmer the room temperature, the more comfortable and relaxed they are. That's why it's usually quite hot in my studio and why we spend so much time taking pictures.
Why do newborn sessions take so long?
Let's be honest: a newborn session requires time. It's not because we photographers are particularly slow, but because everything surrounding a newborn baby takes time. Rarely do parents arrive on time for an appointment, so a newborn session necessarily requires a very relaxed pace and atmosphere.
If you already have kids, you know what I'm talking about: the day stretches like chewing gum and you feel like you're doing nothing as the hours fly by. A newborn session is no different, and follows the baby's rhythm. There will be breaks to feed the baby, to change diapers, to calm the baby down if he is fuzzy…. Sessions usually last an average of 2 to 3 hours, sometimes a little longer, depending on the type of images you want to capture of your baby.
Can newborn pictures be taken when babies are older than 15 days?
No two babies are alike. Thus, for example, a premature baby development is different from a full-term baby, and photos can be taken later without further complication. Should something unexpected happen during your postpartum, there is always a chance to take pictures later. The resulting photos may be a little different than what you had originally in mind, but you should not drop the idea of a photo session. It's never too late. In any case, your wellbeing always comes first.
Can siblings and parents be included in the photos? in the photos?
Of course. Every baby is different, but I always welcome the whole family. We will talk in advance so that everything is ready when the time comes. And of course I expect you to be in the pictures, too!
What to wear? Is there anything special I should bring to the session?
My style is minimalist and emotional. I don't usually use any props except for fabrics, scarves and muslins in neutral colors (mostly light and dark). You don't have to bring anything except for an open mindset and be ready to enjoy the experience. I do recommend to bring a spare T-shirt (just in case) and to choose clothes with either washed out or solid basic colors (white, black, gray… or pastel shades). Don't worry, as soon as you book your session, you will receive detailed information by email. And, if you don't know what to wear for your photo shoot, you can read my tips here.
When will I be able to see the photos after the session?
Usually within 10-15 days after the photo shoot you will receive an e-mail with a link to a private gallery. In the gallery you will be able to see the selection of photos and download the ones included in the package you bought. Most of the images are presented in color, with a few black and white photos scattered here and there according to my style.
How are photos delivered? Will I have the digital files?
Yes, all packages include digital files. Some packages also include wooden displays or albums; if not included, they can be purchased separately. Whatever your preference is, do something with your photos: don't let them just sit on a flash drive. Print them, make a collage, create an album… the only limit is your imagination. But make sure your pictures are seen by your loved ones. It makes no sense to keep them in a digital drawer 😉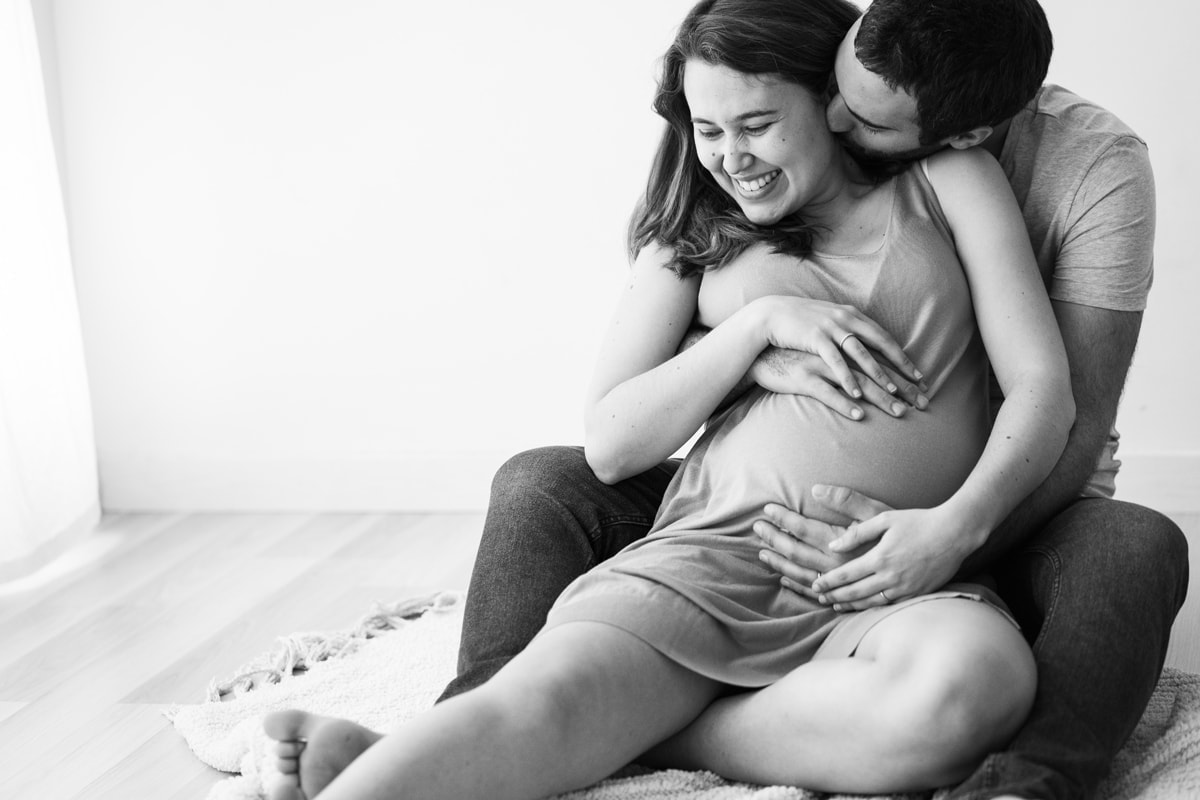 Capture your whole story in pictures with pregnancy and childbirth photos
Your story as a family doesn't begin at birth, but long before that. Pregnancy photos can be a fantastic complement to your newborn session, and we can do them either in my studio or on location. What would YOU like to capture? There are no rules when it comes to the type of photos we can take; we can take intimate studio shots or more documentary-style pictures on location. Generally, pregnancy sessions are done during the 6th or 7th month of pregnancy, when the belly is clearly visible. As time goes by, you are more likely to feel heavy or uncomfortable. However, photos can be taken at any time.
If you're feeling brave, you might even want to consider having a photographer during the birth. Believe me, you'll get spectacular images of a moment that is undoubtedly the most important day of your life – even more than your wedding!
Give the gift of a session
A photo shoot can be a great gift for a pregnant friend, sister, or partner. Not only do the resulting photos make for a great keepsake, but the experience itself is worth living and an opportunity to enjoy a calm morning that will be remembered for a lifetime. However, before gifting a session, it's advisable to find out if the person would like the idea. There's nothing worse than having to visit a photographer when you really don't feel like it.
I can prepare an electronic gift voucher, and you'll find that the whole process is very simple.

Ens van regalar una sessió newborn i no sabíem com anava això, però ens va encantar la manera de com duu a terme aquest tipus de sessions. Va ser un mati de petar la xerrada amb tranquil•litat. Té bona mà amb els bebès, té molta experiència, agafava la nostra bebe i la calmava per fer les fotos.El resultat de les fotos ha estat brutal. Ens ha agradat moltíssim.
Contactamos con Victoria después de ver sus fotografías a una amiga. No nos gustan los "posados", queríamos una sesión natural donde se captaran las emociones. Fue ver su trabajo y saber que eso era justo lo que buscábamos, un espacio cuidado, elegante y minimalista. ¡Sus fotos eran preciosas!Desde el momento en que contactamos con ella recibimos un trato excepcional, con una profesionalidad y organización de 10, esto nos dio mucha confianza.Durante la sesión fue todo rodado, un ambiente tranquilo y un feeling genial tanto con nuestro bebé como con nosotros. Se preocupó de los detalles pero sobre todo de que todos estuviéramos cómodos.Por lo que respecta al resultado de las fotografías, espectaculares. Sabíamos que había captado algunas fotos bonitas, pero nuestra sorpresa fue que vimos otras fotos aún más bonitas y que ni nos habíamos dado cuenta de cuándo las había hecho. Sin duda volveremos a contactar con ella cuando queramos repetir una sesión familiar.Muchas gracias por el trabajo Victoria, pero sobre todo muchas gracias por cuidarnos tan bien ese día de la sesión
Vam escolllir la Victoria per l'estil natural i fresc de les seves fotografies, i va ser tot un encert! Les meves filles petites es van sentir còmodes amb ella des del primer minut fet que va fer que la sessió sigués molt natural i fluida. Però el millor de tot és el resultat! És espectacular! Estem encantats amb totes les fotografies. La Victoria és una crack i gran professional!
Meritxell Corral M.
1695411928
Es fantástica. El clima y el ritmo que crea es tranquilo, relajado y súper respetuoso. El resultado es realmente maravilloso porque se interesa en conocer la familia y plasmarlo en las fotos. Muchas gracias por tu trabajo Victoria! A mi hijo no le gustan las cámaras y tú has creado un precioso recuerdo para siempre!!
Hacer nuestra sesión de fotos con Victoria ha sido muy fácil! Ella te lo hace todo de una manera tan natural que no te das cuenta que estas en una sesión de fotos.. y era eso lo que buscábamos, naturalidad. El resultado final ha sido lo que esperábamos, fotos naturales y espontaneas pero con mucho significado para nosotros! Repetiríamos una y otra vez, igual que lo recomendamos sin pensar dos veces 🙂 Graciès per tot!!
Ha estat genial!Jo estava emocionada xq fa ple que segueixo a la victòria i sabia que aniria genial però la resta de la family no les tenia totes… i va ser màgic!Les converses espontanies, tothom al seu aire sense estar pendent d la càmera, sap captar els petits detalls que després et dibuixen un somriure quan els veus… l resultat molt molt bonic!Repetiria una i mil vegades més!Altament recomanable!
Farmàcia Sureda C.
1692714225
Encantados con el resultado! Victoria ha sabido reflejar en fotos nuestro día a día con una sesión a domicilio, captando detalles que nos quedarán en el recuerdo para siempre! La sesión fue agradable y fluida, nada forzado. Para repetir!
La sesión con Victòria fue diferente a cualquier sesión fotografica que me hubiera imaginado. Hicimos una sesión fotográfica mi compañero, nuestra hija, nuestro perro y yo. Mi hija (2 años) que suele ser bastante precabida se sintió muy a gusto y disfrutó mucho teniendo libertad para corretear y explorar. Los cuatro nos sentimos muy a gusto y estamos contentísimos con el resultado! Muy probablemente volvamos a repetir, nos queda un poco lejos (vivimos a 60 km de Barcelona) pero la experiencia y el resultado valió la pena.
Buscavem fotografies naturals i poc posades, i així va ser. Amb la Victoria tot va estar fàcil i el resultat ha esta meravellós.
Soy seguidora de Victoria y su trabajo desde hace algunos años. Su visión de la infancia y la maternidad es un regalo, y creo que eso se refleja también en su trabajo. Somos de Valencia y organizamos un viaje a Barcelona solo para tener una sesión con ella, creo que con eso lo digo todo. La sesión allí fue genial, estuvimos cómoda toda la familia (diría que las peques más que nosotros, pq nosotros nos tensamos un poco con la cámara jaja), pero Victoria en todo momento nos hizo sentir super cómodos. Es super agradable estar y charlar con ella. Como consejo que me hubiera gustado aplicarme, tener pensadas algunas fotos que quieres que se hagan. Ella nos lo dijo, pero la verdad es que estás más pendientes de los peques y ellos son los protagonistas, solo que ahora pienso que me hubiera gustado tener alguna foto más yo sola o con mi pareja. Para la próxima!! Porque volveremos seguro.Ah bueno, que me dejo el resultado!.Solo se me ocurre describirlo como MAGIA. Las fotos son increíbles. Naturales, preciosas y llenas de emoción.Por si quedaban dudas, 100% recomendado 🙂
Vaig contactar la Victoria perque m'agradava molt el seu estil i com enten la maternitat. Necessitava capturar moments intims amb els meus fills perque tinc la sensacio de que el temps se m'escapa i en el futur vull tenir molt present que hem tingut moments meravellosos, i que no tot eren pressess i "anem tard". Victoria fa que et vagis obrint d'una forma natural, gens invasiva. crea una atmosfera intima i lleugera i sembla que el temps s'aturi al seu estudi. El resultat m'ha encantat (he acabat triant totes les fotos de la galeria), i tothom amb qui he compartit les fotos han estat d'acord que transmeten moltissim. Si esteu pensant a inmortalitzar records preciosos, la Victoria fara que siga una realitat.
Meravellosa! I unes fotos precioses. Recomanable 100%
Trobar la Victòria ha sigut un regal! Ens feia molta il·lusió trobar una persona capaç d'immortalitzar l'inici de la nostra família, el present i també el futur que vindrà, des de la naturalitat, el bon gust, la senzillesa, la honestedat. I la Victòria és tot això, et fa sentir com a casa en tot moment, cosa que quan estàs embarassada o amb nens no té preu. Les fotos sempre superen l'expectativa i les guardem com un tresor. Sempre amb ganes de repetir!
Totalmente recomendable. Íbamos con mucha vergüenza y poca confianza en exponernos y finalmente han salido unas fotos muy bonitas que muestran tal y como somos, gracias a la naturalidad y espontaneidad de Victoria. Muchas gracias!
Tenía dudas sobre si la sesión de fotos funcionaría o no. No lo habíamos hecho nunca y a mi me apetecían unas fotos, aunque fueran solo mías embarazada, si mi marido e hija no querían participar.Solo llegar mi hija ya se sintió como en casa, y mi marido en su salsa jugando y saltando por la cama. Hacerse una sesión sin posar, natural y divertida mientras hablas sobre maternidad y sobre la vida. Como era la primera vez escogí una mini sesión de 30 minutos. He acabado quedándome con todas las fotos, era incapaz de escoger mis preferidas. ¡Los 30 minutos pasaron volando! ¡Repetiremos sin dudarlo!
Estem enamorats del reportatge que ens va fer la Victòria. Va captar l'essència de la nostra família amb respecte, realisme i molta sensibilitat. Vam passar un matí super agradable al seu estudio on la Victòria ens va fer sentir com a casa, i va tenir una paciència infinita amb el germà gran, que no és gaire amic de fer-se fotos.Si busques una fotògrafa que sigui capaç de captar instants amb naturalitat, elegància i emotivitat, la Victòria Peñafiel és la teva persona!Nosaltres hi tornarem segur!!!
Magnífica professional. T'acompanya meravellosament durant tot el procés de la sessió i posterior.Repetirem sense cap mena de dubte!
Oriol Ferran S.
1684049740
Nos han encantado las fotos!! Buscábamos fotos naturales, sin posar y sin fondos recargados, y el estilo de Victoria nos encajó a la perfección!! Durante la sesión también fué todo muy bien, muy natural y estuvimos muy a gusto todos!
Nos encantó realizar la sesión. Sin prisas, con toda la tranquilidad, salía todo fluido. Y el resultado ha sido precioso. Estoy segura que nos volveremos a encontrar en alguna otra ocasión! Muchas gracias
Una sessió fotogràfica de 10 en tots els sentits. Hi vàrem anar per tenir un record i vam sortir encantades, pel tracte de na Victòria i la seva professionalitat: va treure el millor de nosaltres i la qualitat de les fotografies és excel·lent.
Liniu Siquier C.
1683581975
Victòria Peñafiel Fotografia
Carrer de Sicília, 253, 6è, 2n,
08025 Barcelona